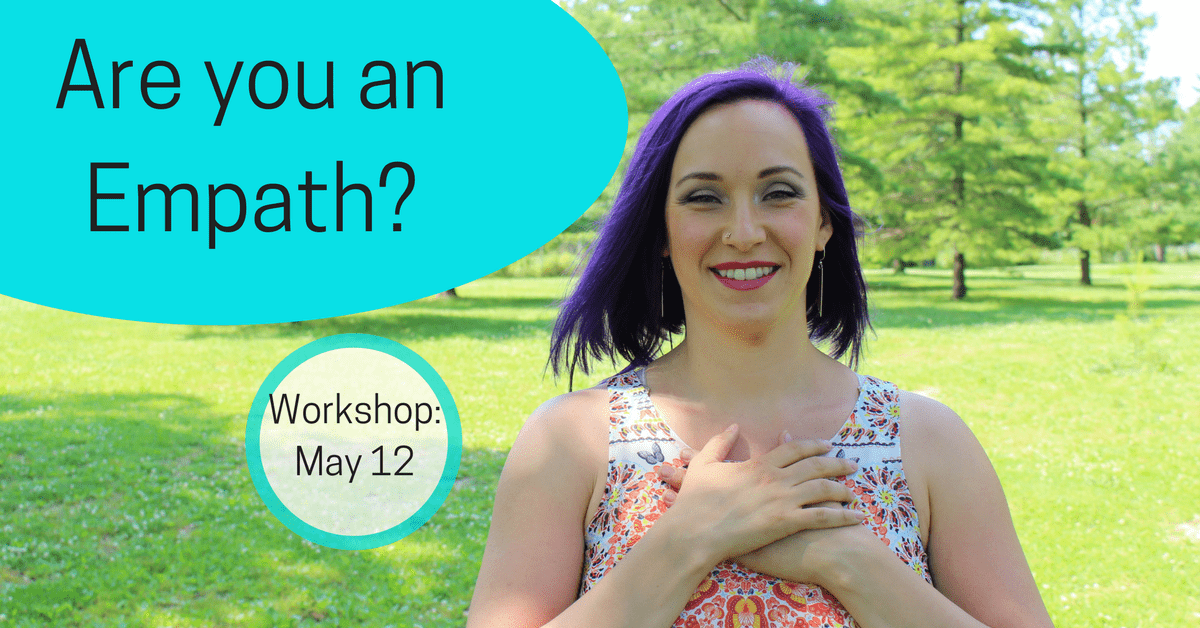 EMPATH FREEDOM WORKSHOP
SATURDAY MAY 12, 1-3 PM $30
Are you an empath? Do you feel other people's energy, emotions, physical issues or the collective issues as your own?
Empaths have many telltale traits but essentially what makes an empath an empath is they take on other peoples "Stuff" as their own.
Many empaths experience it in these ways:
– a mirror "image" of someone's physical or emotional pain, energy or thoughts.  
-a blending of your energy with other people's energy which can result in fogginess, feeling drained, tired and overwhelmed.
Many empaths feel sensitive to the world, to other people, and also have other intuitive abilities mixed in.  They feel so deeply into another person which is a beautiful thing, however, getting directly "taken down" by other's stuff isn't how it has to be.
The main thing is…
How are you feeling with all of this?
Do you feel like you are carrying the burdens of the world and your loved ones?
What if you could find freedom from other's energy and still know what is going on deeply and intuitively with them?

It is not your job to take other's stuff on, in fact, you can make an even bigger impact in the world by being empowered in your empathic patterns. Your intuition will become clearer and you will be able to enjoy your life from a true place of FREEDOM!
In this workshop, we will talk about:
-ESSENTIAL practices for empaths (spiritual hygiene).
-Anatomy of empathic patterns that you might be functioning from.
-How to navigate and know who you are as an empath.
-Time for personal sharing and questions.
When you have the clarity of who you are and how you are functioning as an empath, you can then make empowered choices! Being an empath is a beautiful thing.
Right now, many are feeling even more intensity from the collective. Hi, I'm Vanessa, fellow Empath, and Lightworker and I am here to support you.  

Join me for this workshop! I look forward to connecting with you in a room full of fellow empaths!
WHEN: SATURDAY MAY 12, 1-3PM
WHERE: YOGA ANAND ASHRAM 152 MERRICK RD AMITYVILLE
PRICE: $30
SPACE LIMITED!

I use SQUARE as my credit card processor, if you prefer to use paypal, you can send me the payment of $30 and email me your information: Name, phone, email. Thank you!  PAYPAL CLICK HERE