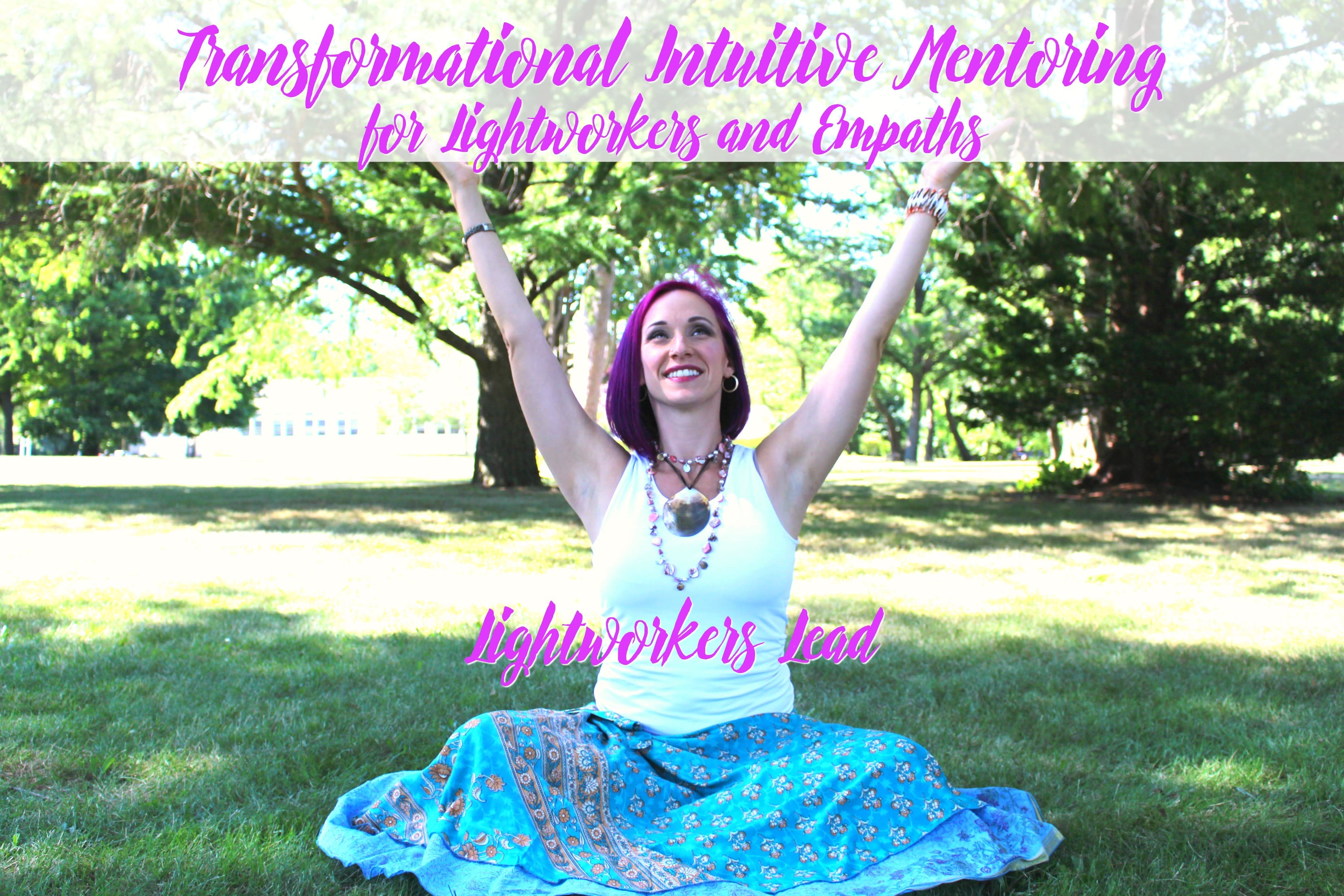 Lightworker, it is time to FULLY EMBRACE and EMBODY who you are!
A vibrational leader on this planet.
An intuitive, sensitive soul.
A human with a passion and desire to help.
A being with a purpose and a mission here.
A vibrant light, a heart-centered human, a deeply feeling being.
What many Lightworkers and Empaths are struggling with now:
Empathic and energetic overwhelm from the world and other people.
Fear of fully coming out of the spiritual closet and being seen as YOU.
Unclear on your purpose(s) and current mission.
Listening to the outside world over your intuition/ inner knowing.
Fully owning that they are vibrational leaders on this planet which is the best most compassionate powerful leader there is!
You can feel frustrated, unfulfilled and unuseful.
You can feel disheartened and helpless by what is going on in the world.
You can feel overwhelmed wanting to hide from the world.
You can feel meaninglessness in your life.
Create and manifest your heart's desires.
Energetic space and freedom while still helping humanity and the world.
Fun, joy, meaningfulness, connection, delicious moments lived, and so much more.
To make a difference.
Be YOU in the world.
A lightworker never "punches out" of this job. We are always lightworkers, BUT it can and should be on our OWN terms, and what is most ALIGNED for you at the moment. Yes, being your own leader and in command is the most valuable thing you can do for yourself and the world!
YOU are needed NOW more than ever! Your presence is seen and known. You are influencing the collective whether you realize it or not. You are a powerhouse and a leader and you are called to become BIGGER and more expansive. You might feel like the mouse but you truly are the elephant and it is time for you to see and feel that for yourself.
-"Newly awakened" to who you are as a lightworker or empath.
-Have known you are a lightworker for a while.
-Hiding in the spiritual closet, sometimes venturing out, or feeling mostly "out there."
-A lightworker being called to or going through a massive change in your life on many levels.
-A lightworker who hasn't found their "place" in all of this yet.
You are being called to become BIGGER and more EXPANSIVE and step into your truest calling in your life.
-Dive into who you are as a lightworker or empath so you can release what is no longer serving you, find energetic freedom and embody who you are.
-Get clarity and develop your intuitive and psychic abilities, lightworker gifts.
-Align your daily spiritual hygiene with who you are and what serves you best.
-Get crystal clear on what your purposes and missions are here and NOW.
-Support you taking your next step and the next from your inner guidance.  
Each Lightworker or Empath I work with will have specific areas that need to be focused on more than others.  This isn't one size fits all linear approach, but a Higher self, higher alignment guided experience. Therefore it unfolds exactly as it is supposed to unfold to reach the specific goals we are working together on.
You want to work with a mentor who:
-Can read/see/know you like reading a book inside out.
-Can tune in to where you are getting stuck and blocked in your vibration and in your life and help you fully feel and know that for yourself so you can change your life moving forward.
-Can guide you to move through your emotions, feelings and make massive paradigm shifts.
-Who can hold space for you as you feel, heal, clear and expand who you are.
-Who can explain things simply and understandably yet profoundly (this is what I am told).
-Who has years of experience in the mind-body- emotions connection, in body-centered healing and clearing, in teaching spirituality, vibration, law of attraction along with movement and release techniques, in breathwork and meditation, in spiritual hygiene, alignment, energy work, and ascension.
My mission is the help fellow lightworkers embody who they are as vibrational leaders in command of their lives and embrace their unique gifts and spark for the world to benefit from.
The time is NOW, don't you think? You are more powerful than you know…..
Lightworkers Lead Program
The support  I provide outside of our mentoring sessions is ongoing throughout our time together and it is powerful. When you reach out to me I can feel/read where you are at and direct and guide you to clarity. I am your biggest cheerleader because I believe and KNOW your magnificence.
We are a right fit if:
-You are ready and willing to embody who you are, not the "perfect" version you have created in your mind (it's ok to be scared, you just have to be willing and open).
-You are ready and willing to see and feel the deeper meaning in all circumstances in your life and make the changes that align with who you are at the highest level.
-You are ready to be really supported and accepted in who you are at the deepest level.
-You are ready to do the damn thing and be who you are in this world!
We aren't a good fit if:
-You aren't ready and willing to see yourself and your life with love and compassion.
-You expect me to "fix" you in some way and not expect to do any inner work or make changes in your life.
-You aren't willing to see yourself as the creator of your life and own what you truly want.
-You aren't willing to follow the path of your heart's calling.
It's time to connect don't you think? If you feel the resonance of everything I said in your bones, in your body, in your heart, book a call with me.  What are you waiting for? Click the link below! 
Vanessa has truly been a blessing in my life. Not only has she helped me regain physical strength, she has helped me develop and grow spiritually, beyond what I even knew was possible. She is a naturally gifted healer and teacher. Through her nurturing nature, Vanessa has helped me open up, gain confidence in myself, trust my intuition, and also tune into my physical body. 
She has worked with me on grounding techniques and how to truly connect to my inner self. This has helped me create a foundation to continue on my spiritual and healing path. Vanessa has become a dear friend and mentor. She shows me how to grow as a person by believing in me and also how to develope and trust in my own gifts and healing process. 
Working with Vanessa has truly been a transformative experience. She has taught me to be kind and gentle with myself. Also to not be ashamed of where I am in my life, but to embrace all of who I am and to trust in the process as I grow. I remember resisting in the beginning but through love and light Vanessa has always held space for me and has educated me on the importance of surrendering and trusting in myself, as well as the process of expanding as a spiritual being. I am blessed and extremely appreciative to have her gentle loving soul in my life. 
Jaclyn
"Vanessa is a gifted healer that I have had the honor of treating with now for 9 years! We met back in 2009, by chance through a trusted friend from PA school after I was injured from a motor vehicle accident in the midst of my studies.  I could not have gotten through my rigorous class schedule without her help treating me for chronic neck and back pain. During the course of our treatments, I began to truly learn about my body for the first time and understand the wondrous power of how my thoughts and emotions could manifest as physical pain. Throughout the years as our treatments and relationship evolved in a way that I knew we were destined to meet. Vanessa has held the space for me always through laughter and many tears along with the full gamut of emotions especially in the past few years during my healing crisis that I see now as a blessing. Her gentle approach to massage with MFR technique is very unique. Her intuition always guides her to what areas need healing. I am a very sensitive and empathic and always feel safe in her care.  She is generous with her time and a compassionate woman that I now consider a friend. Her professionalism combined with empathy while being able to hold space for me emotionally when needed is the perfect combination and makes Vanessa shine above most in her field. Life is a journey and we are all on this path together. Vanessa is now an exceptional spiritual guide.  We recently began transformational intuitive mentoring sessions combined with meditative grounding and distance healing. I have to say the results have been unbelievable! She helps me work through many of my emotional and physical blocks just through our sessions. I always feel lighter and have a deeper understanding of my next step in my path afterward. Vanessa's energy is clean and pure and I am grateful to have her as guide and light to navigate life's peaks and valleys. I have learned so much from her throughout the years, but most importantly I learned that it is ok to feel! No matter what the emotion is or how "bad" I have labeled it, she taught me that once it is truly felt and processed that it can change. No feeling lasts forever. We are not one-dimensional objects! She has a very special way of bringing me back into my body and rooted back to the earth even on my most anxious days.  I always leave our sessions feeling safe, supported and home again in my body. I am so proud of her growth throughout the years and am blessed to have Vanessa be a part of my life!"
Allison Shea